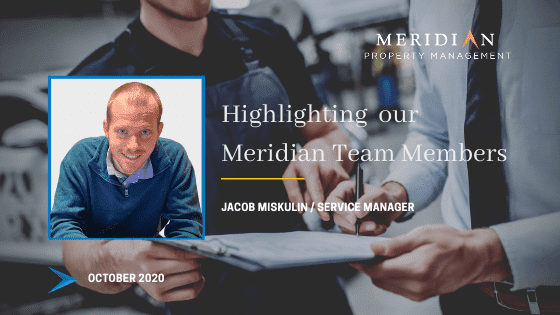 29 Oct

Highlighting the Meridian Team Members: Jacob Miskulin

At Meridian Property Management, it's important to highlight our team members in every way. We'd love for you to take a moment to support this month's feature on our Service Manager, Jacob Miskulin. He has been a great asset to the Meridian Property Management Team. His expertise and professionalism are unlike the rest. Jacob works on a high level of expectation for his tech team. What sets Meridian apart from other service departments is that we prioritize and invest in a well-trained, professional Service Team. It is one of the main reasons people choose Meridian Property Management over other companies. We build a trusted relationship so that all projects, big and small, are expected to get fixed and done right. Jacob is the reason we have such a well-oiled machine. Learn more about him below, and make sure to reach out and say hello.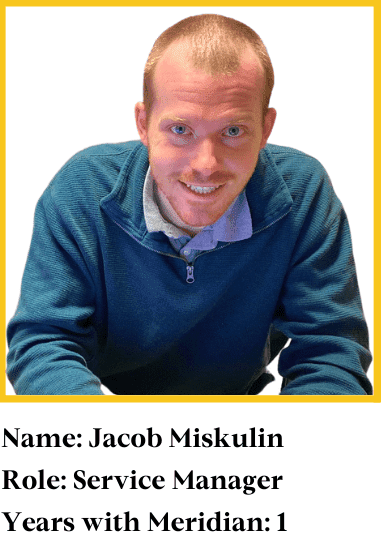 What my job at Meridian Property Management entails and how I contribute to the overall Meridian experience…
I am the Service Manager which means I'm responsible for the overall maintenance and major repairs for all our properties, whether that's a running toilet to full roof replacement. I help make sure our repairs get completed in a timely manner, to the tenant's satisfaction, and at an exceptionally low cost for our property owners.
My time in Memphis…
I moved to the Memphis area in December of 2019, so I've lived here for less than one year.
This is what I do for fun in Memphis…
I like to take my kids to the various parks in Memphis and explore Shelby Farms.
Here are my favorite, must-try restaurants in the area…
I haven't been able to explore as much as I'd like with the pandemic but I have enjoyed a few places including Cozy Corner and Side Street Burger.
I think Memphis is a great place to live because…
There are a lot of great restaurants and it's still a growing city.
What I love most about Memphis is…
After moving from Atlanta, I love how little traffic (comparatively) there is in Memphis.
What I think makes Meridian Property Management unique…
Meridian is very comprehensive when it comes to all things property. Whether that's developing, repairing, or managing properties, they do it all which is very rare and makes for an exciting work experience.
We look forward to continually serving the needs of our current and future tenants! If you have any questions, reach out to our office directly.