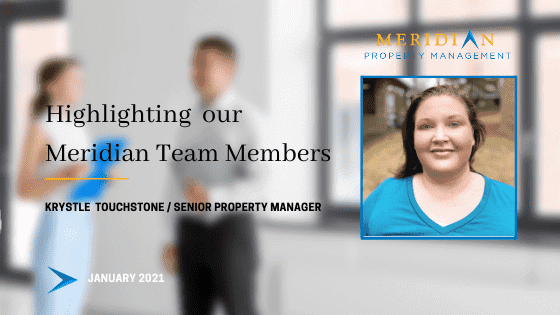 26 Jan

Highlighting the Meridian Team Members: Krystle Touchstone

At Meridian Property Management, it's important to highlight our team members in every way. We invite you to take a moment to support our Senior Property Manager, Krystle Touchstone. She is an integral part of our team and of our investors. Krystle has helped maintain a 99 percent collections rate – even during these COVID months and put a hyper-focus on Owner Communication. Her consistency and hard work are exactly what Investors are looking for when they are trusting a Property Manager with their home.

She is one of the nicest people you will ever meet and she loves to cook. Learn some more fun facts about Krystle below, and make sure to reach out and say hello.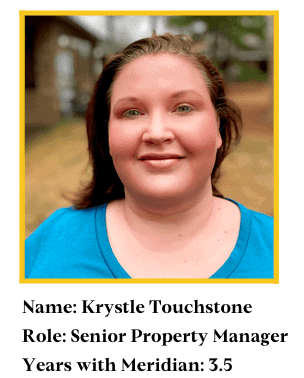 What my job at Meridian Property Management entails and how I contribute to the overall Meridian experience…
My job with Meridian Property Management entails communicating with investors and tenants, collecting rents, and working to keep the properties in good conditions. I contribute to the MPM experience by being able to stay consistent, organized, and steadfast.
My time in Memphis…
I have been in the Memphis area for 28 years.
This is what I do for fun in Memphis…
Memphis is full of things to do. Going to the zoo on a nice spring day, listening to live music, going for a walk at Shelby Farms, and the various museums.
Here are my favorite, must-try restaurants in the area…
East Meets West, they are a small mom and pop Asian shop with some of the most delicious eats! Elwood Smoke Shack (it is exactly that) offers some of the best BBQ and burgers. Brother Juniper is a great spot for some local Memphis breakfast.
I think Memphis is a great place to live because…
Memphis is home, although I am not originally from here. I could not imagine being anywhere else. You can find various cultures, food, people, and things to do. It is a city full of hospitality and robust history.
What I love most about Memphis is…
While one of the things I love most about Memphis is the fact that my family is here. But, seeing the outpouring of help in our communities even during hardship is heartwarming.
What I think makes Meridian Property Management unique…
At Meridian Property Management you are not just an employee, you are treated like family. Being a part of this team for the past 3.5 years has been an experience like no other.
Tell us more:
You can sometimes catch my dogs dressed in seasonal pajamas!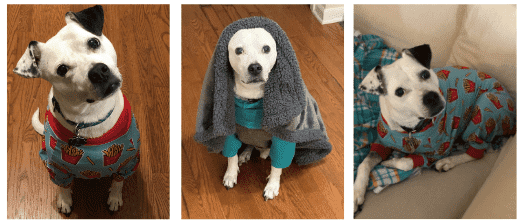 We look forward to continually serving the needs of our current and future tenants! If you have any questions, reach out to our office directly.